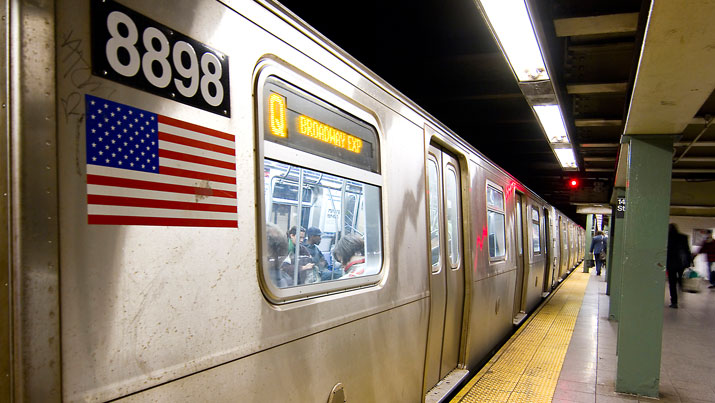 New York has 3 airports. Two of them (JFK, Newark) serve international and domestic flights, and one (La Guardia) only serves domestic flights. To get from the most popular JFK Airport in Manhattan you can choose between public transportation (subway, buses), Shuttle Buses, taxis, limousines, vans, Uber, Lyft or rent a car. Obviously for the latter you should know that parking in Manhattan is very expensive and can cost $25/hour. For more extreme situations there is the solution of moving by helicopter.
To travel from JFK Airport to Manhattan by Subway, you will need to transfer to the Air Train. The Air Train is an automated (driverless) overground train that shuttles travelers between the airport's 8 terminals and ends at Jamaica Station where you can take the E train to Midtown Manhattan or Lower Manhattan. The cost of this train is $8 + $1 to print the first card and you pay it when you exit, not when you enter. To avoid printing the card you can pay directly at the entry machine. So the total cost to get from JFK to Manhattan is $11.75 or $10.75 (with the card). If you are wondering where the Air Train and E train are, you just have to follow the continuous information through the signs that are everywhere.
BEWARE this. Probably in searching for information in articles and videos you will see that you are recommended to take the E, J and Z trains. Only the E train is valid. The other two have been removed from the common station and you will not find them there. The information listed here is for August 2022.
For moving around the city, the king of all transportations is the subway. With 472 stations on 28 lines, you are sure to reach any destination quickly and easily. Alternatively you can use public buses, ferries, taxis, water taxis, bicycles, tourist buses and finally your feet. As an example, we mention that a metro ride costs $2.75. The Metro Weekly Pass (ideal for tourists) costs $33 and includes unlimited rides on all subway lines, the entire local bus network, the Staten Island Rail Road and the Roosevelt Island Cable Car. Ferry to Staten Island is free.
On the subway and at the ticket machines, we noticed that for some strange reason they didn't accept payment by debit card. Only by credit card and cash. Also, there was a problem with cash because it didn't give change over $9. That is, if you put 20 dollars for a ticket, the transaction would not take place.
Of course, it is very convenient that you can use your debit or credit card directly at the entrance of the station or bus, without having to take out a card. This feature is called OMNY.
When we arrived, since it was already 12:30 AM, we preferred to take a taxi to Manhattan. Although before the trip I had read about 52$ fixed rate from the airport + taxes + tolls + tips and a total of 80-90$ it was not exactly like that. It was $52 which with a 20% tip, which we chose to give, + tax came to a total of $67 (pleasant surprise). On our departure we chose the subaay solution and it was really convenient and much more economical.