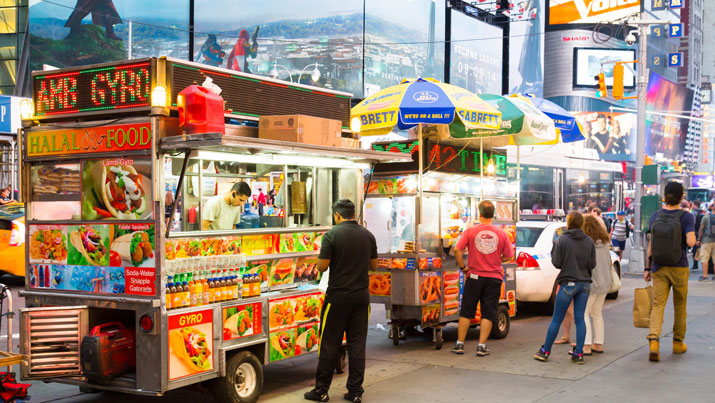 Coffee: 1 – 2
Starbucks: 5
Cheap meal: 8 – 15
Lunch/Dinner in a restaurant: 20 – 40/person
Lunch/Dinner at an expensive restaurant: 50+/person
Glass of wine: 4 – 6
Beer: 6 – 8
Cocktails: 10 – 20
Soft drink: 1.5 – 3
Donut: 1-4
Bagels: 2 – 6
Hot Dogs: 1 – 3
Water 500ml: 1 – 4 (depending on how touristy the area is)

We recommend consulting websites such as Yelp and TripAdvisor to read reviews from other users. Restaurants located around crowded attractions (Times Square) are more expensive than average.

Visit one of the many markets, such as Chelsea Market, where you will find a wide variety of food at very reasonable prices.

And of course don't forget to taste the famous pizza of New York and the countless spots with the well-known $1 a piece. After our autopsy in several places, we found that $1/Slice has become $1.5/Slice.

Across USA the legal age of majority is 21. The sale of alcohol and tobacco products is prohibited under this age. However, in some restaurants or bars, you may not even be allowed to enter.